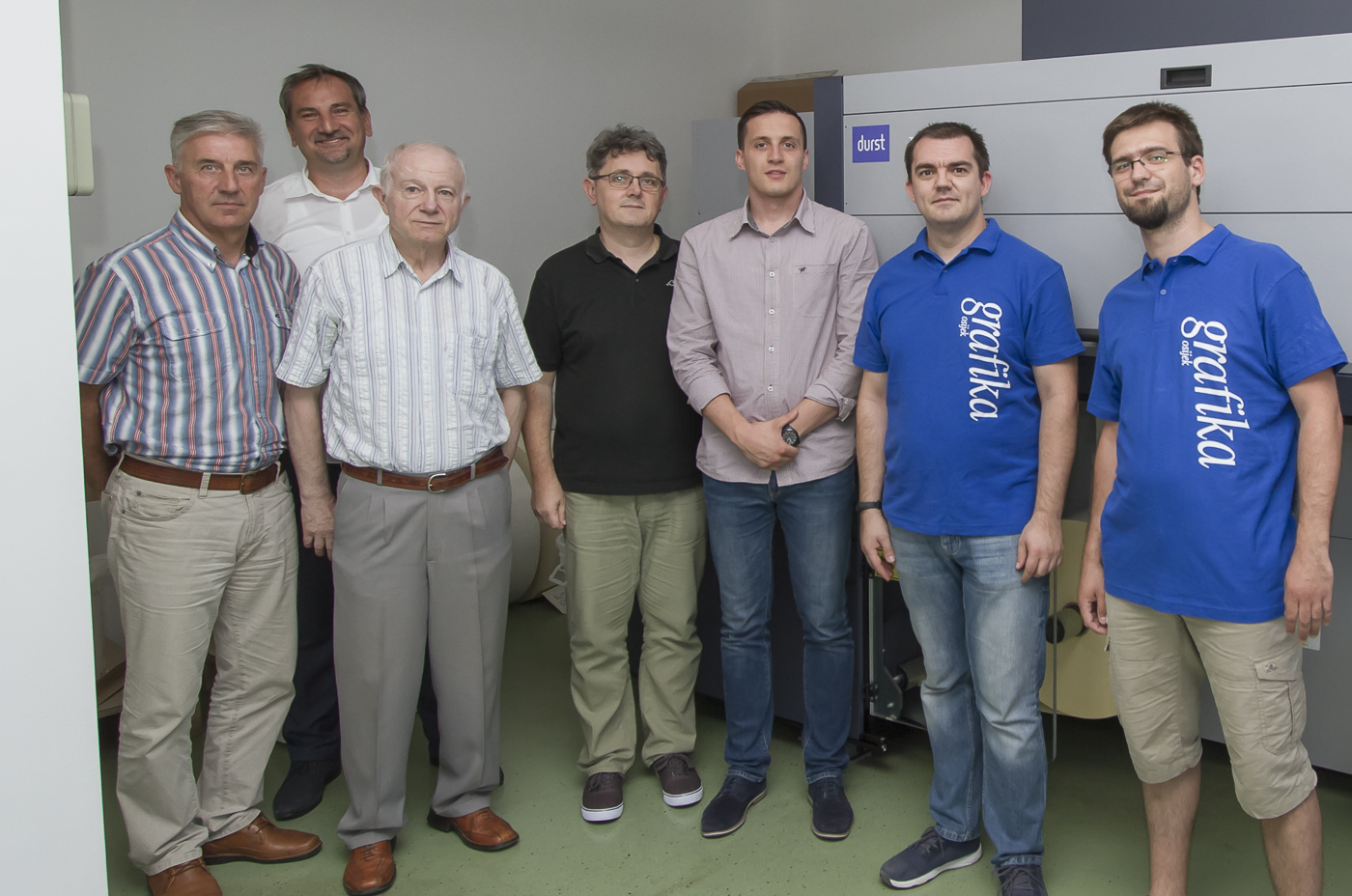 Grafika Ltd. Osijek - Grafik.net installed the first DURST TAU 330E in the Adria-Balkan region
WEB-FED SELF ADHESIVE LABEL PRINTING WITH SINGLE PASS UV INKJET - HIGH VALUE-ADDED NICHE
Grafika Ltd. from Osijek, Croatia (Grafika LTD., Osijek, Croatia) does not have a real competition when it comes to commercial printing on the Eastern Croatian market. They have been in the business since 1989, and its founder and owner, Mr Ivan Plačko, is the same visionary at the age of 75 as he was thirty years ago when he was a pioneer at recognising advantages of digital technologies in printing industry. The most recent investment was in DURST TAU 330E single pass UV inkjet label printing system and additional GM finishing line installed by the regional representative Grafik.net Ltd. (Grafik.net LTD., Zagreb, Croatia). For Grafika this means accessing a completely new market niche of digital self-adhesive labeling which means a substantial increase in production capacities, market expansion and increase of export and profit.
When was Grafika Ltd. founded and how did you recognize the advantages of digital production in printing industry?
The company was founded in 1989 and in the beginning we concentrated on prepress for books. We were the first company in the region that used a laser printer in 1991, which we ordered from the US, and started digital short print run of books, leaflets and catalogues. At that time I already knew that digital technology would bring about the revolution in printing industry. In one year we managed to print around 150 book titles, which was quite a lot for that time regarding "traditional" print technologies which were used. Digital book production was very profitable back then.
What are your primary products today and which technologies do you use in production?
Our primary products so far were books. We have printed many monographies and other products which are typical for commercial print. We specialized in micro print runs on digital machines, and for short print runs we use offset machines. We have a 4-colour and 5-colour Man Roland with exceptional print preparation speed (automatic ink tray adjustment), which we acquired in cooperation with Grafik.net. We can make ten to twelve colour preparations on one machine in one shift. In this segment of production we have achieved the highest level of productivity, but the competition is strong, which in turn means low profit. That inspired us to search for new, more cost-effective print niches and expand our product lines.
Which markets do you cover?
Our main market is local and covers Osijek and Osijek-Baranja County, but we manufacture for clients all around the country. Minor part of production is exported. We want to expand the market with new investments, because UV inkjet self-adhesive label printing technology is without competition in this area. Now we are able to offer high quality print within a short period, and we expect more than 50% increase in export. After careful analysis of product prices on markets covering Slovenia, Austria, Germany and Hungary, we may conclude there is definitely place for our products there. We plan on opening a branch office in Pecs soon, which gives us possibility to expand into Hungarian market.
How will the investment into DURST equipment and UV inkjet label printing technology open up new markets and enable new products?
So far the labels were exclusively done with "sheet-fed" printing on the paper. Digital web-fed printing with UV inkjet technology on DURST TAU 330E provides us with a completely new way of production. With this technology we can greatly improve our production possibilities, because they enable printing on different substrates (PE, PVC, transparent, opaque and translucent substrates, metallized substrates etc.) up to 0.5 mm thick. Besides printing web-fed labels, which can be applied on the product by mechanical or manual means, we can also produce small series of packaging, such as smaller sized boxes for beauty products. Along with the machine we installed the GM finishing line, which, besides die cutting, enables additional label refinement (foil printing that simultaneously works from two foils and UV varnishing either partial or on the whole surface) and increases the value of the finished product.
When it comes to format and speed the machine is able to print rolls which are 350 mm wide (width of print is 330 mm) at the speed of 48 running meters per minute which is "great enough". If at the beginning the machine works effectively only a couple of hours a day, the financial result would be big enough to repay the loan.
A big advantage of this technology is also the possibility of personalized and variable printing which is one of the main advantages of digital technology. That means that each label can be different with a unique picture, message, code or number.
What is the key reason for choosing DURST UV inkjet technology and not some other manufacturer's system for digital print? What was the cooperation with Grafik.net like during this investment?
One of the reasons for choosing this technology is, as we mentioned earlier, the fact that it does not exist on regional market (web-fed UV inkjet for labeling). Another reason is the price of print which is, according to my calculations, substantially lower than with the competition especially when using new high pigmented HD colours. I'm also counting on these prices dropping in the future due to a global rise in usage of digital technologies.
We have been cooperating with Grafik.net for many years, but until now the cooperation was based on improving the preparation of offset printing machinery. While we were planning the project in 2016, I found out that Grafik.net was the representative for DURST, so they organized a visit to the factory and demo centre. I was thrilled by the factory because DURST shows stability and provides security for future business. Their institute for developing colours is a guarantee that stationary supplies can be developed further. Their reputation was a key factor in deciding whether to invest. We also visited GM in Denmark.
Maintenance staff from DURST, GM and Grafik.net was present during machine installation and they will be maintaining both installed machines in the future. Everything was done within the deadline, and guarantee contracts have been signed, with DURST a two-year contract, and with GM a one-year contract.