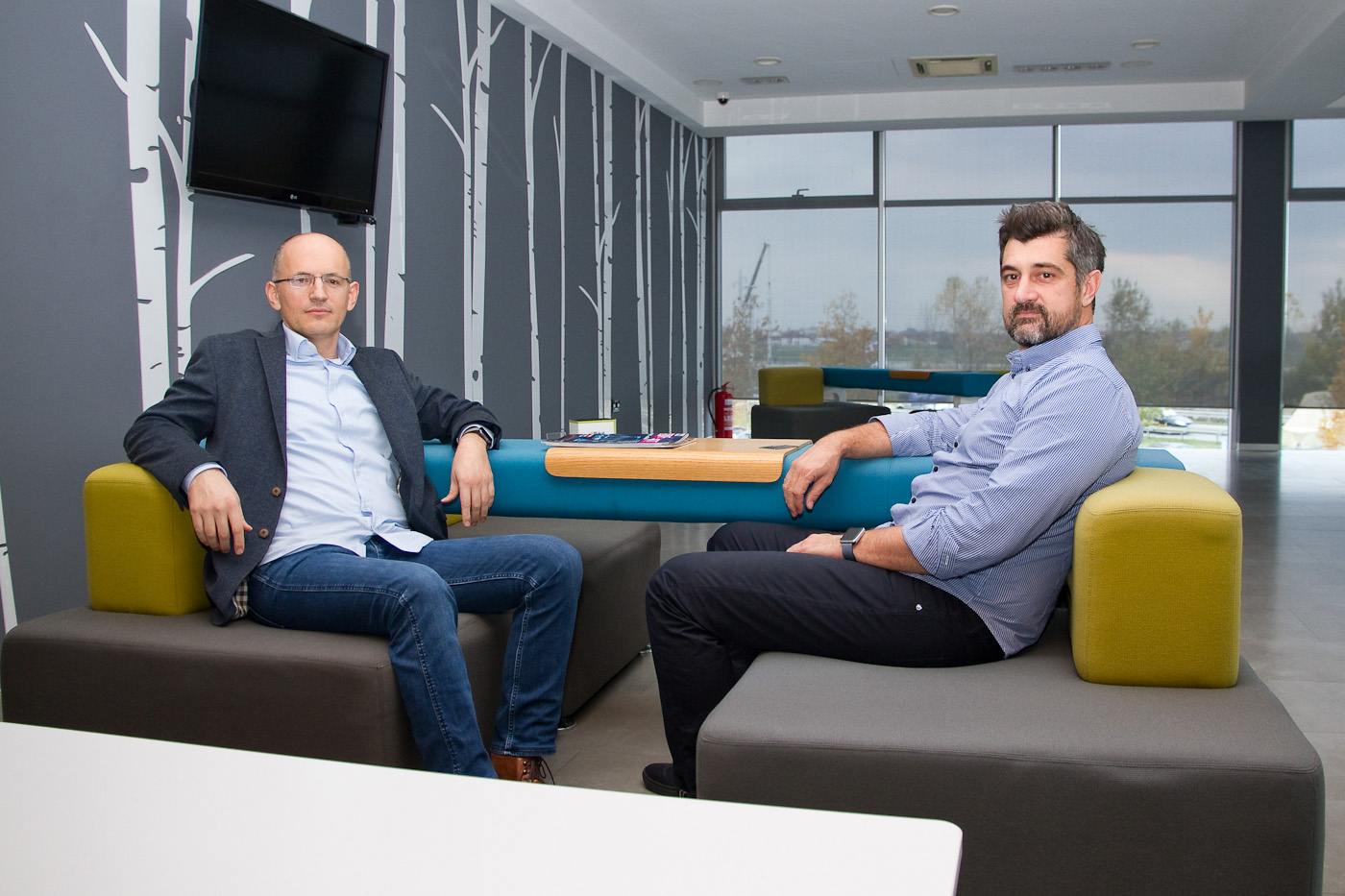 NS PLAKAT - THREE ZUND MACHINES IN TWO YEARS
NS Plakat (NS PLAKAT Ltd, Novi Sad, Serbia) has been investing into business and equipment for digital printing and finishing of large formats for the last 30 years. When they took over Print Grupa (PRINT GRUPA Ltd, Zagreb, Croatia) from Zagreb in 2013 they became a leading regional consortium for this segment of digital printing and finishing.
Three ZUND machines have been installed in Novi Sad in the last two years: S3 L-1600, G3 3XL-3200 with a tandem option and D3 L-3200 with automated material loading. Regional representative for ZUND Grafik.net (Grafik.net Ltd, Zagreb, Croatia) takes care of service support and work reliability.
In this interview company's owners Mr Predrag Ilić and Mr Đorđe Mihalički talk about the challenges they encounter on daily basis and explain what is necessary for continual growth and development.
How many people do you employ? What is your primary product?
Predrag Ilić: We have 140 employees in Novi Sad, most of which work in finishing. There are 100 employees in Zagreb. Our primary products are cardboard shelves and cardboard displays, i.e. cardboard POS. This product encompasses 40-45 % of our sales.
What does the second part of your production include?
Đorđe Mihalački: Everything that has to do with digital printing: self-adhesive labels, banners, print on forexand kapa materials, textile frames, textile print for soft signage with which we equip regional shops.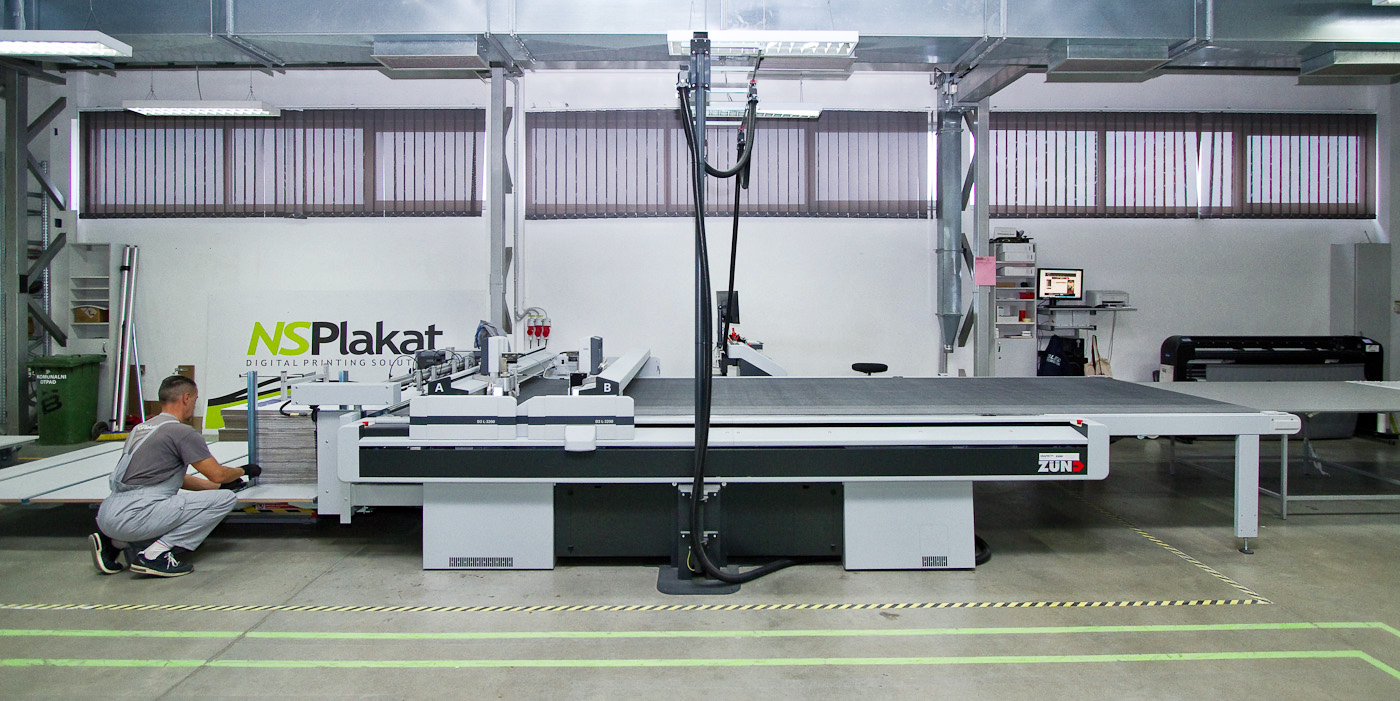 What was the technological growth of the company in sense of equipment and organisation?
Predrag Ilić: As we grew, we changed the organisation. There has to be a certain number of people within the company and certain amount of work to have an organisational model. We now have a model which we've created. For example, we have a sales director and a production manager who manage heads of finishing lines and a machine park and run their groups. We elevated people from our own production to this level.
How important is it to educate your employees?
Predrag Ilić: We educate our staff constantly, through work and through regular consultations and meetings. We always define current status and possible changes in the upcoming period - in order to achieve better results. Most key people at the company have gone through the whole production cycle.
What were the key reasons for choosing ZUND? What kind of materials do you process?
Predrag Ilić: The first CNC machine we've bought was the ZUND. That was in 2005. We were the first ones in Serbia who started working with rigid materials and cardboard. We needed a universal machine at that time and ZUND had no real competition. Since 2010 we had been using a different brand until two years ago when we needed a new machine, and we decided to acquire two new ZUNDs (S3 and G3). We installed a D3 machine a few months ago. Today we have three ZUND machines in Novi Sad, from three different series: S3 with a conveyer, G3 with a conveyer and S3 with loader.
Đorđe Mihalački: ZUND has always had premium quality when it comes to cutting, and the diversity in ZUND series is very important. All three machines work with cardboard which is our basic product, but they can also cut roll materials, and each one has a specific feature. So cardboard is our basic product, but we also produce other materials depending on client's wishes (alubond, plexiglass, forex, kapa etc.), but in smaller quantities. Three machines contribute to flexibility and productivity.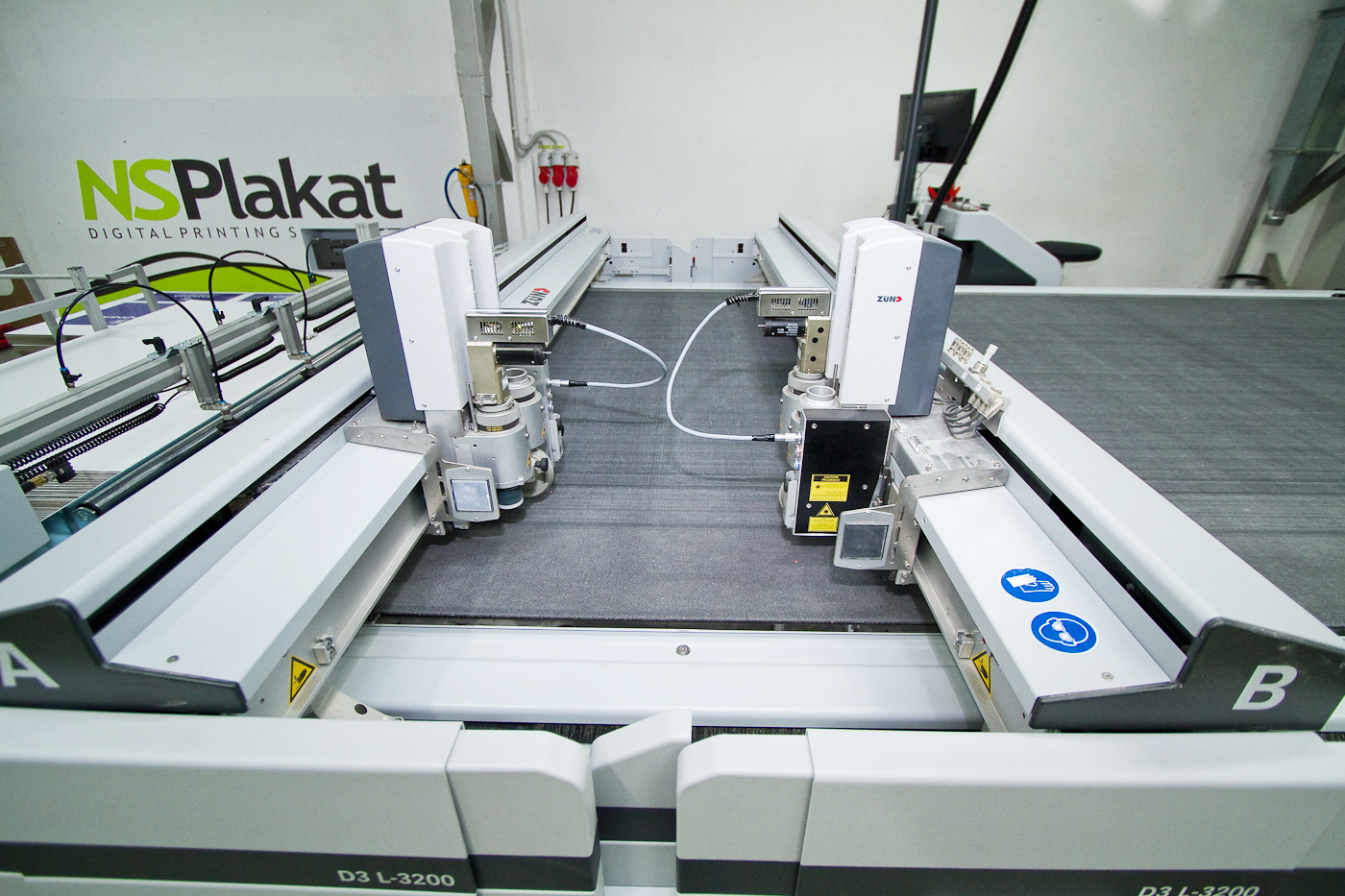 Are there any production processes you haven't been able to realise or were economically unprofitable before you acquired ZUND? What does this investment mean when it comes to speed of your production and competitiveness on the market?
Predrag Ilić: Differences between brands in terms of cutting speed are much smaller today than ten years ago so that is not crucial. However there are software advantages which speed up the production processes. ZUND has made a step forward in this area by installing a much more advanced software, and competition fell behind. Software installed on ZUND runs the machine and calculates the necessary time on its own, so you are able to plan the production process and know in which order to insert materials in the machine, software also cares about tools and service period. That is the heart of the machine, and these "little things" are what makes a huge difference when we talk about cost savings.
For us productivity, systematisation and quality are the most important things in our business. The problem we've had until now was systematisation of processes which had to be set manually in the software. Each operator had to a have high level of technological knowledge about how to process each material and at which speed. That's different with ZUND - it is enough to have one person who knows how to operate the machine - the parameters are set, and others just use them.
Đorđe Mihalački: ZUND is a machine for small series and not large scale production and there are up to 20 job changes with different types of materials and work operations on daily basis. Besides cutting speed, changing jobs is also very important, because sometimes it takes 10 minutes for the machine to cut and 20 minutes to change the process. The way you insert material into the machine is also important, i.e. the trajectory the material makes during loading – changing this process can create considerable cost savings.
How do you approach future investments and realisation plans?
Predrag Ilić: First we look at what our needs are, we put everything on paper, visit fairs and check which machine fits best. I like testings and demonstrations, when we bring our files and test them - that's how we make the final decision. We bought ZUND because we had tested everything on it. That is the only way to buy a machine in this line of work. For our type of product, this machine is ideal.
How long have you been cooperating with Grafik.net?
Predrag Ilić: We have been cooperating with Grafik.net since 2013 - we had no contact until then because they worked with different kinds of machines. The cooperation has grown, so we had the installation of DURST a couple of months ago in Zagreb. That is the best machine in this industrial segment. In comparison to other partners Grafik.net are responsible, correct and flexible - all three are very important in business. When we need them, they're here, which is important in regards to service and maintenance.
Đorđe Mihalački: For me it is important to have good communication with our partners and to have full support, because all machines come with problems as well. The speed of solving those problems is crucial. I cannot afford for production to be on hold, which means the client has to wait. If you lose a client, he's not coming back. Maintenance and service are important, and we have that thanks to Grafik.net. Concerning business, we have the most productive machine in the region, and when something stops, we call Grafik.net.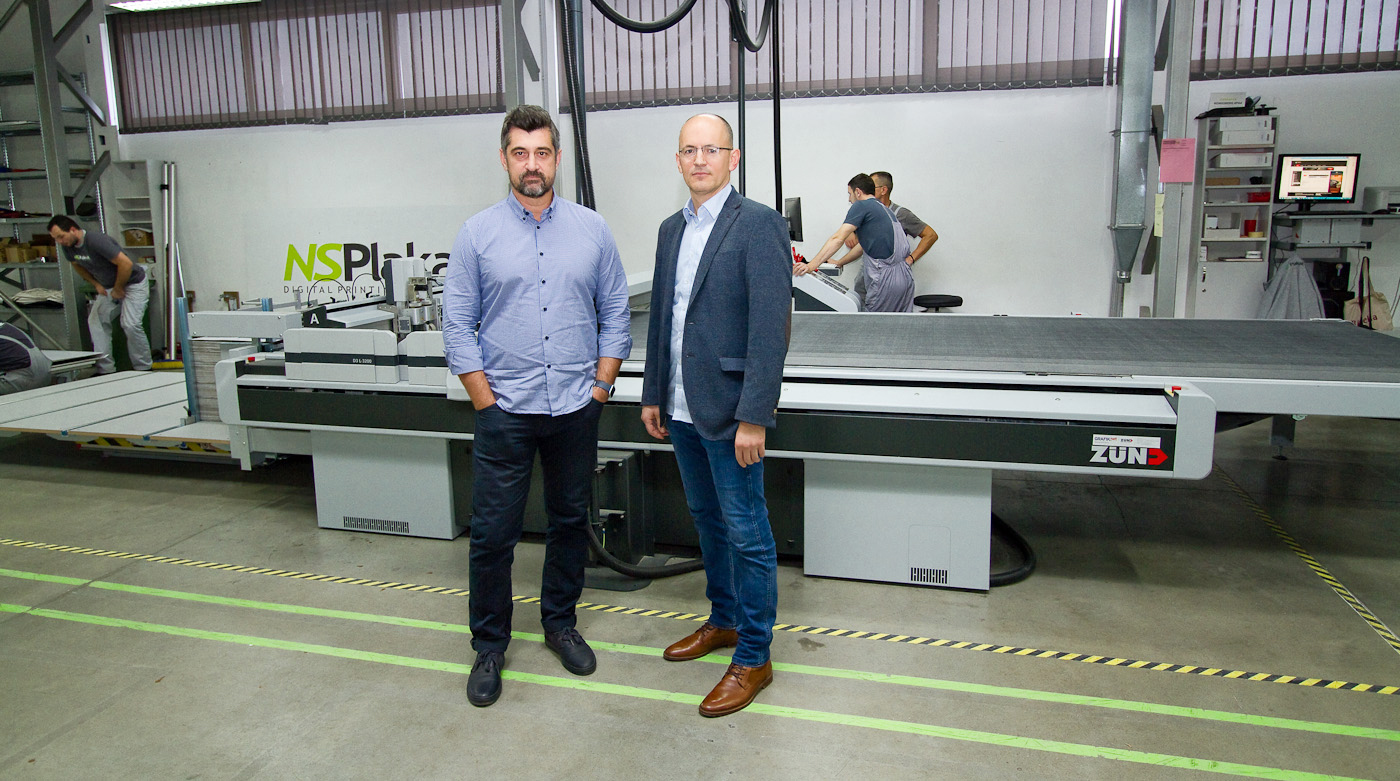 What challenges does the future bring? Will it be possible to produce things which are impossible to produce today in larger quantities?
Đorđe Mihalački: We follow the market, and it dictates the development. Competing only in square meters has become in vain because "the complete product" is the core of this business. A flexible business relationship is also important, to offer the client something new in regards to the competition - without that you have nothing.
Predrag Ilić: For the last three years we have been working with 3D prints as well and we combine some new techniques with old ones to make new products. The technology will keep developing, but there will be new requirements, too. We try to invest into new technology every year.
Tags: Zund